CSS Help for WordPress Websites
Helping clients with social media often leads me to WordPress. My believe is that social media and websites go together like peanut butter and jelly. A business needs to have both working together to maximize online exposure. This is where WordPress comes into the situation.
When developing a digital strategy it is important to have a working website that can be easily edited to add or adjust content on the website. WordPress enables this because it is a content management system (CMS). The other perk to WordPress is that is has plugins that make it easy to integrate things like social media share buttons and other aspects of social media engagement. This is great news for anyone that is not a web developer but needs to get things done on the Internet. And, have all those website elements work with the company's social media accounts.
WordPress is highly customizable and much can be accomplished. With that said, WP is highly customizable with infinite options and endless rabbit holes to go down. One of the biggest website requests I get is… "can you make my new site look like A, B, and C?" And the answer should be YES, but that is not always the case. WordPress allows for making the site look and feel exactly the way it needs to. However, without significant knowledge of cascading style sheets (CSS, the way things get formatted for viewing in WordPress), this styling can be tedious, labor intensive, and ultimately mind-blowing.

Get CSS Help Without Being a Developer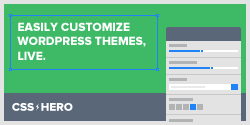 Plugins to the rescue! Just like Apple, WordPress has an app to take care of it.
CSS Hero is the plugin for editing and manipulating a website's CSS. I ran across this potential gem while researching formatting tweaks for a website Harvester Solutions is working on. From my initial assessment it appears to be a Firebug (page inspector tool for Firefox) on steroids. The plugin gives the ability for users to drill down to the exact CSS element in question, then tweak it, see the updates live, then copy/paste the newly generated css code into a your WordPress website stylesheet. Sounds pretty awesome to me, so I took the plunge and ponied up the cashola for a 5 site licence.
CSSHero impressed me so much upon initial inspection that I went ahead and signed up for their affiliate program. I am a firm believer in giving back to something that helped me. Please check out CSSHero and let me know what you think about it. And if my endorsement isn't good enough, check out what Chris Lema has to say about it: http://chrislema.com/check-out-css-hero/
As always, please feel free to contact me at Harvester Solutions to get more information about websites and how they should integrate into a social media strategy. And, to get more CSS tips and tricks.